With four gas burners and two individual pan supports, the ER6A6PD70 Hob from Siemens is a stylish addition to any kitchen. Crafted using only high-quality materials and workmanship, this hob will certainly help you take the hassle out of home cooking, whilst still looking sleek and modern.
What's more, this model also includes a range of smart innovative features to help you master the art of cooking and bring extra precision and flexibility to your mealtimes.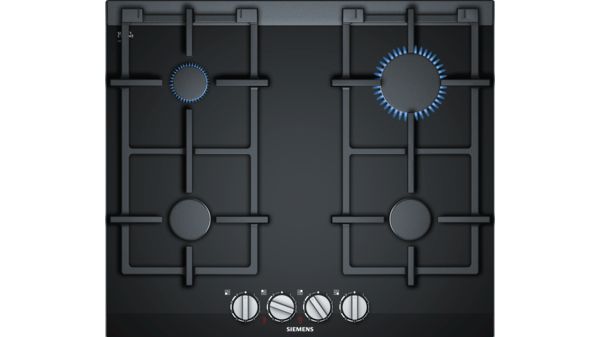 Easy Cooking
The ER6A6PD70 hob has been expertly designed and crafted by Siemens to help make cooking much easier.
Powered using gas, this hob will offer instant, easy-to-control heat which is spread evenly across the base of the pan. With this even heat distribution, cooking and heating your food will take a lot less time. What's more, gas is also a lot cheaper than electricity, so you will likely save yourself money on your monthly bills when you choose the ER6A6PD70 hob.
stepFlame Technology
Thanks to stepFlame technology, creating delicious meals is now easier than ever. This feature will allow you to have full control over your cooking and will remove all of the guesswork that previously came with cooking with gas. Using stepFlame technology, whichever level you choose will deliver the exact heat and flame size you need.
Keeping You Safe
In a family home, it's vital that your whole family is kept safe. Though, it is a common fact in UK homes that gas hobs are one of the safest choices and therefore one of the most chosen. In addition to this, Siemens has also integrated a range of intelligent features to help make your home as safe as possible.
One safety feature included on the ER6A6PD70 hob is a flame failure safety device, which is a key safety feature in any gas hob. It is designed to cut off any supply to flammable gas if the flame on the hob was to go out and stop it from going up into the burner. This will prevent a dangerous buildup of gas within the appliance and the rest of your kitchen.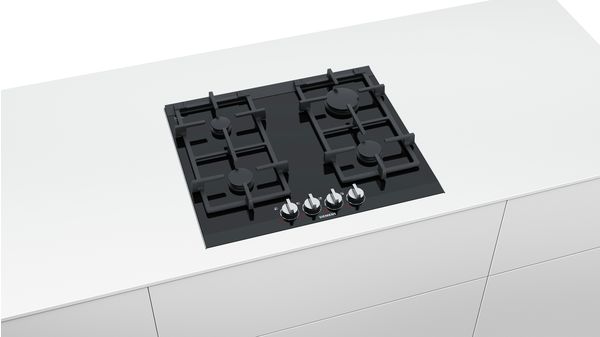 Great Looking
In addition to the sleek black ceramic glass surface, is a smart electric power level display to clearly display the power level at which the hob is set at. The control dials are also designed co-ordinated, so you know that this hob will not only be a helpful addition to your space but will also bring heaps of personality.
Easy To Clean
The ER6A6PD70 hob is also finished in a smooth ceramic glass surface, which makes for easy, hygienic and hassle-free cleaning. Simply wipe over the surface with a cloth to ensure that your hob is sparkling.
What's more, the pan supports are easily removed and are also dishwasher proof. Simply take the supports off the hob and put them in the dishwasher with the rest of your washing. This is an extremely handy solution which will no longer require you to sit and scrub away.
Selecting the best hob for your home can seem like an overwhelming task, and ensuring that you get great customer service and delivery options in Rhyl is also essential. Here at First Choice Domestic Appliances, we can supply the stylish and modern Siemens ER6A6PD70 Hob, with all the great service you need and the excellent price you want. Take a look today to find out more.