With a sleek and modern finish, the NB535ABS0B Built-in Double Oven from Siemens, is an excellent way to transform your kitchen. It's a brilliant way to make your kitchen space look great and also, with a state-of-the-art oven, you'll be guaranteed quicker, better cooking!
Not only will this oven provide you with a modern touch, but the white display features blue indicator handles, which will help you easily open the oven with the bar handle and with lightControl, you can intuitively operate the oven thanks to the illuminated dials. With a mix of the black finish and the illuminated controls, this oven will definitely bring personality to your space!
The main lower oven also offers an outstanding 47 litres of capacity, and the secondary oven offers 34 litres, so you can know that you'll have enough room to cook for the whole family.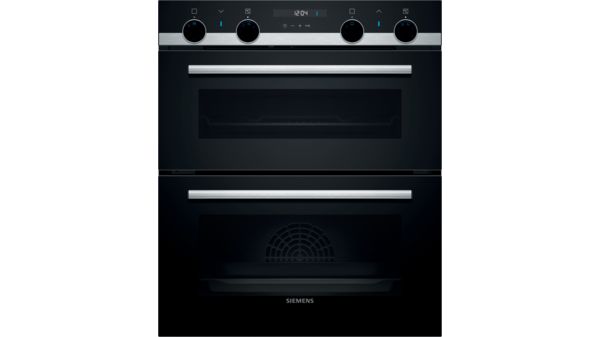 Saving You Much Needed Time
Having a double oven will undoubtedly save you time and help make your busy day-to-day routines that bit easier. A fast preheat feature will give you the power to keep the time you spend cooking to a minimum, as once activated the oven will quickly heat to the desired temperature. This is especially handy if you are looking to cook a last-minute meal or just have a busy lifestyle and want to save a little time! don't let hours of cooking waste your time!
The 3D HotAir feature also allows you to cook on up to 3 shelves at any one time. The fan at the back of the oven will ensure an even distribution of the heat from the ring heating element behind the back panel, throughout the cooking cavity. This will ensure that your oven is evenly heated and therefore you get even cooking results every time.
Less Cleaning
Nobody likes having to clean up. Enjoy cooking your favourite recipes without worrying about having to clean the oven, thanks to the handy ecoClean direct feature on the back panel. This is a special coating which will automatically absorb any grime and splatters produced whilst you're cooking, so you'll no longer have to scrub at dried-on food. What's more, not only will you be saving time, you'll also be saving money that you'd usually spend on expensive cleaners.
A Wide Variety of Programmes
As well as helping you save time, the NB535ABS0B Oven also comes packed with a range of intelligent features which ensure that you can cook a range of meals, perfectly every time.
Included in this oven, are 5 different heating methods, including 3D hot air. Various grilling options, including hot air grilling, full-width grill.
Another interesting programme is hotAir, which allows you to enjoy the tastiest baking results on up to 3 baking sheets thanks to optimal heat distribution.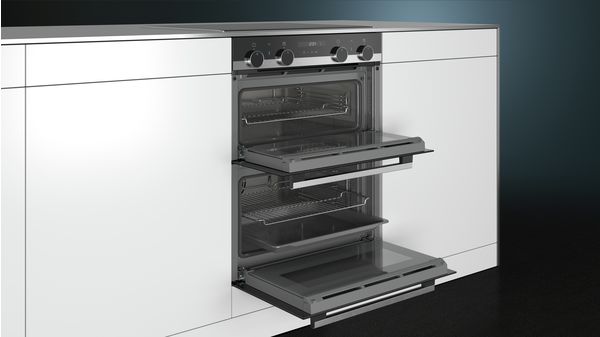 Keeping You Safe
The NB535ABS0B also has a handy control panel lock, which is helpful, especially if you have children. This will help you keep little hands safe and stop the cooking settings being altered.
Selecting the best oven for your home is just one piece of the puzzle, and getting great customer service and delivery options in Rhyl is also essential. At First Choice Domestic Appliances you can get the Siemens NB535ABS0B Oven with great customer service and a guaranteed excellent price.