Find the ideal storage for your wine with the Liebherr WKEgw 582 Wine Cooler. Part of our deluxe GrandCru range, the WKEgw 582 combines superior style and state of the art technology to produce a world class wine storage solution.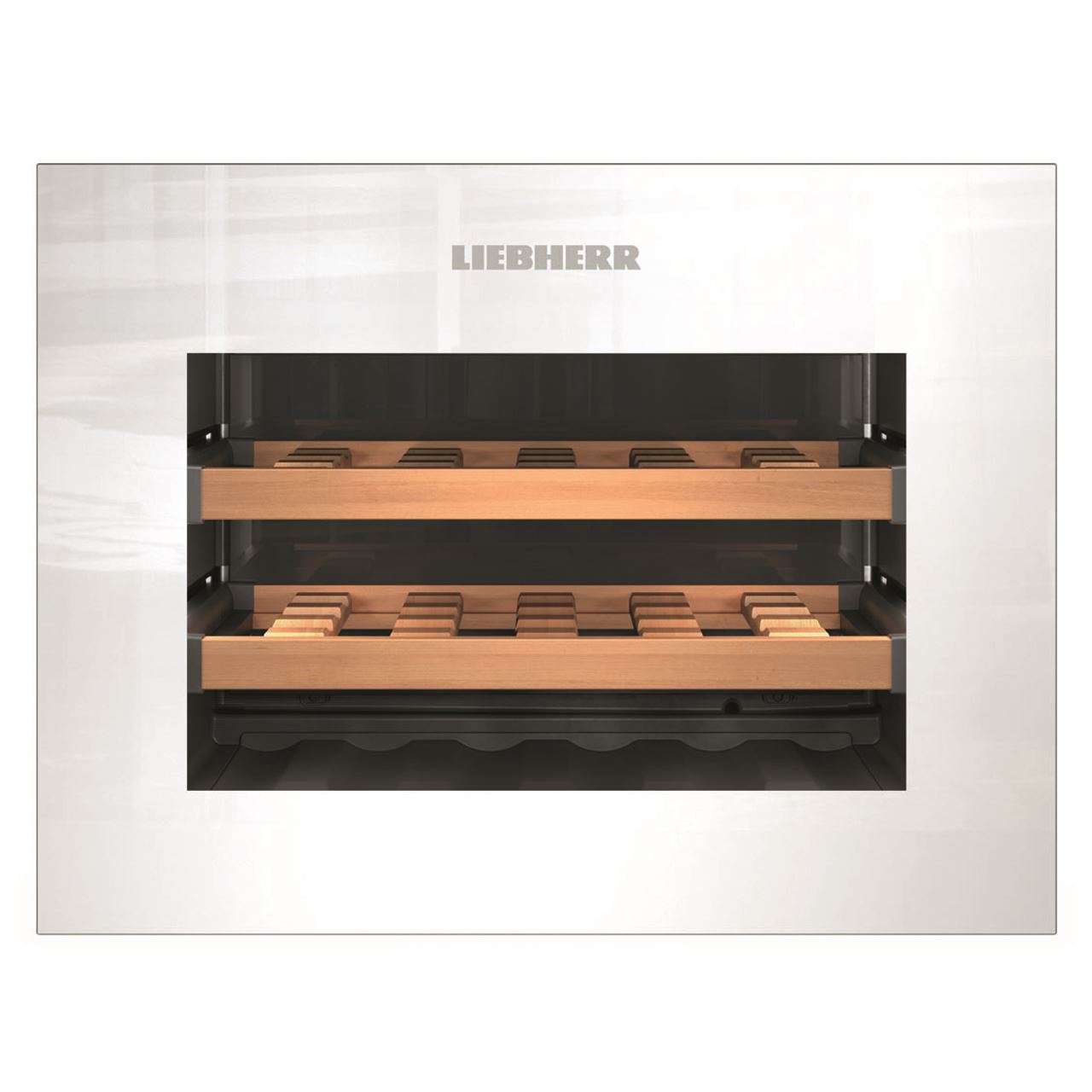 Seamless Integration
The WKEgw 582 integrates beautifully within a fitted kitchen. Featuring a handle free TipOpen flush design, a gentle touch is all that is required to open the insulated glass door. This allows the cooler to fit seamlessly into your kitchen design. Plus, thanks to SoftSystem closing technology, if the door is not opened fully after three seconds, it will close automatically, protecting the wine inside. Noise levels are minimal, with low vibration compressors designed to keep wine in optimal conditions at no more than a whisper. Were it not for the beauty of the appliance, you would barely notice it in your kitchen.
Style and Sophistication
Keeping in step with a gorgeous modern aesthetic, the WKEgw 582 combines a white steel exterior with a stylish black interior and three untreated beechwood shelves. Shelves are height adjustable for convenience. The design features an interior LED light, dimmable for optimal presentation and display of the wines. Built in precision touchscreen controls enhance the minimalist look of the WKEgw 582. Smooth sliding drawers allow for easy access. When it comes to design, nothing is overlooked in this sleek and stylish wine cooler.


Advanced Technology
The 46l net capacity WKEgw 582 can store up to 18 normal bordeaux bottles and comes with a great range of advanced features to provide the best possible environment for wine to mature. Thanks to state of the art climate technology, the WKEgw 582 maintains a constant temperature throughout of between 5°C and 20°C. With humidity regulation via controllable ventilation, the WKEgw 582 keeps wine at the ideal temperature. And with an integrated heater, it is perfect for bringing red wine up to perfect serving temperature. Convection cooling and Liebherr's FreshAir active carbon filter prevents unwanted odours affected the taste and quality of the wine, resulting in optimal air quality.

Other helpful features include a child lock and door alarm which alerts you if the door is left open. The WKEgw 582 is extremely efficient, with an annual power consumption of 106 kWh and an A+ energy rating, perfect if you are conscious of your home's energy usage.


This deluxe wine cooler is a superb choice for wine lovers who embrace great design and innovative technology combined. A minimalist kitchen must-have, the WKEgw 582 fits perfectly within a modern kitchen, storing wine in the ideal conditions for optimal enjoyment. With advanced features, this wine cooler is top of the range, an essential addition to any wine lover's home. Plus, with a two year guarantee on all Liebherr's state of the art wine coolers, you'll have peace of mind with your purchase. Find out more about the WKEgw 582 and Liebherr's range of finest wine coolers by visiting First Choice Domestic Appliances.
Getting premium wine storage for your kitchen, even once you have picked Liebherr, you still require great customer service and delivery options in Rhyl. At First Choice Domestic Appliances you can get the Liebherr WKEgw 582 with great service and a guaranteed excellent price, click here for more information.